You have a connection in Turkey? You are passing through Istanbul and would like to sleep one night there? Or your flight may be delayed or cancelled? If this is the case, or if your departure is early the next day, the best thing to do is to find some accommodation near Istanbul Airport. You can find a list of the best options available on this page.
Important : You should choose your favorite Istanbul Airport Hotel only in the list below because some old airport hotels you can find on the internet are located at Atatürk airport which is now closed and very far from the new international airport (only opened since 2019).
In case you are in transit, there is only one hotel you can book without leaving the airport and going through the immigration process : the Yotel Istanbul Hotel Airside.
Hotels inside Istanbul Airport (IST)
Establishments located at the airport like Yotel usually have a rate between 80 euros and 200 euros per night. The Yotel Landside is located before the immigration line whereas the Yotel Airside is located after the immigration line in the duty free area (good in case you are in transit). If you are on a budget, we advise you to choose a hotel near Istanbul airport (within a maximum range of 20 km). Taxis and hotels are not very expensive in Turkey. Therefore, if you travel a few kilometers away from the airport, you will find hotels at attractive prices. You can expect to pay between 30 euros and 90 euros for a spacious room outside the airport.
YOTEL Istanbul Hotel Landside – City Entrance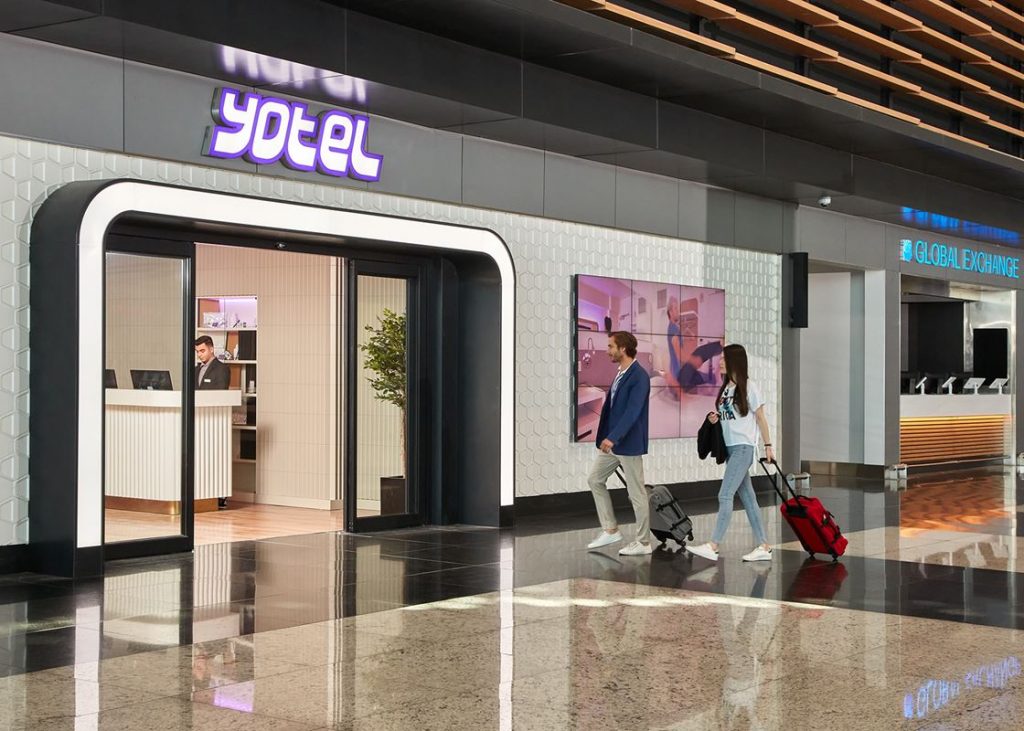 The Yotel Landside is located in the airport terminal before security and passport control. You can easily check in for your flight after your sleep with absolutely no stress as you are already inside the airport. It has 277 rooms with air conditioning and private bathroom. The cabins are elegant, very well soundproofed and equipped. In addition, the restaurant offers a breakfast buffet and Turkish dishes 24 hours a day. A fitness center and Wi-Fi are also available free of charge.
YOTEL Istanbul Hotel Airside – Duty Free – Transit Area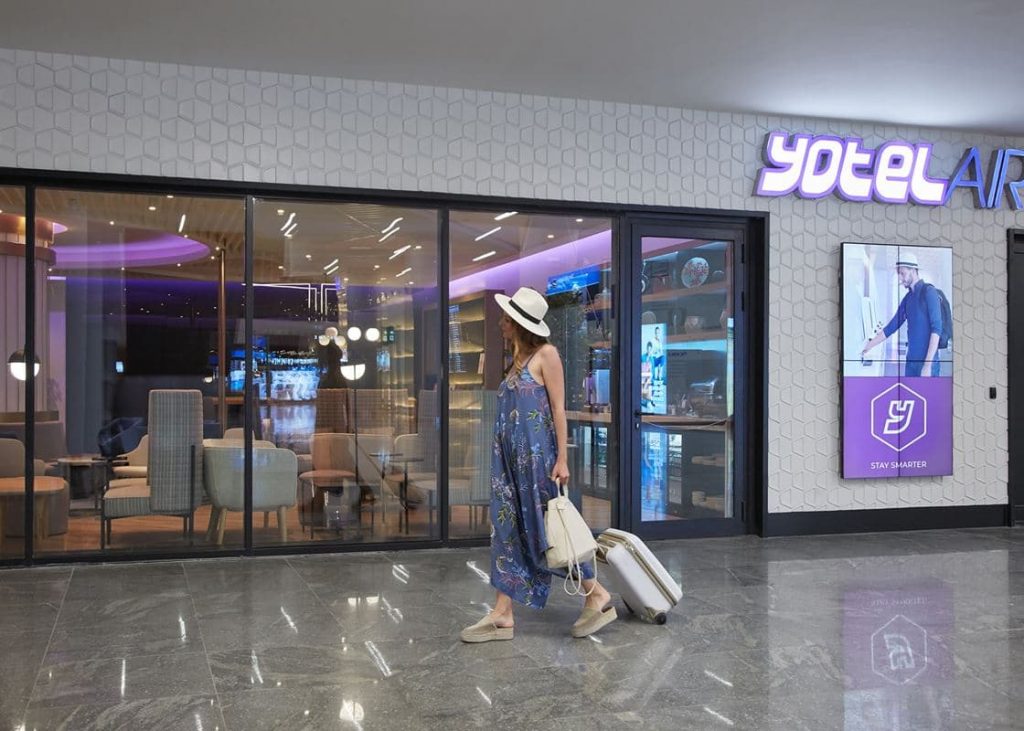 The Yotel Airside is located in the Duty Free area of the airport after security and passport control. Like Yotel Landside, it is possible to book a cabin for as little as four hours. It has 174 available rooms. In addition, Wi-Fi and coffee are free of charge for travelers. Unfortunately, the hotel does not have a restaurant, but there are many restaurants in the shopping area so you shouldn't worry to find what you like for eating. It is the perfect solution for those who have a long time between two flights without having to deal with all the security and passport checks. And it is the only option you can safely book in case you are in transit without visa and your passport doesn't allow you to get a visa exemption on the Turkish territory.
Best hotels near Istanbul Airport (IST)
This selection of Istanbul airport hotels includes all the best hotels you can book near the airport. They will be easily accessible by taxi and the time travel shouldn't be more than 15-20 minutes.
Villa Siesta Hotel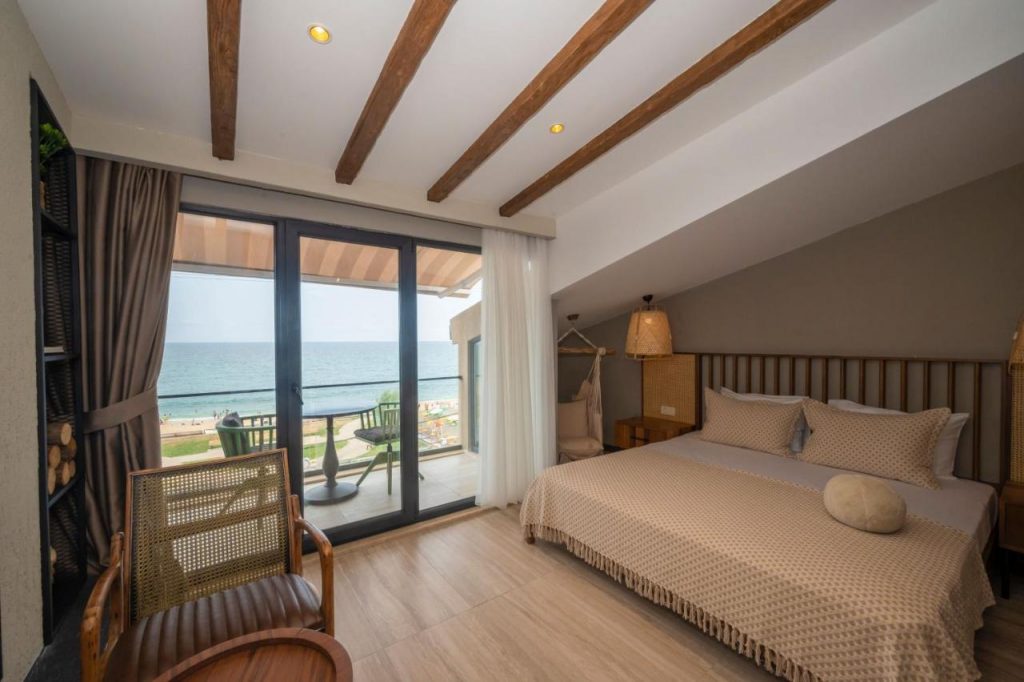 This is the only option you will find in front of the sea.
This new boutique hotel offers great rooms with some nice views over the Black Sea.
The Villa Siesta Hotel provides a massive continental breakfast. This is a great hotel for those who want to fully recharge while having a quick taste of the sea before taking their flight. This hotel is definitely one of the best options if you want to avoid the hustle of the city while being very close to the airport.
Distance from Istanbul Airport (IST) : 18 km
Durusu Club Hotel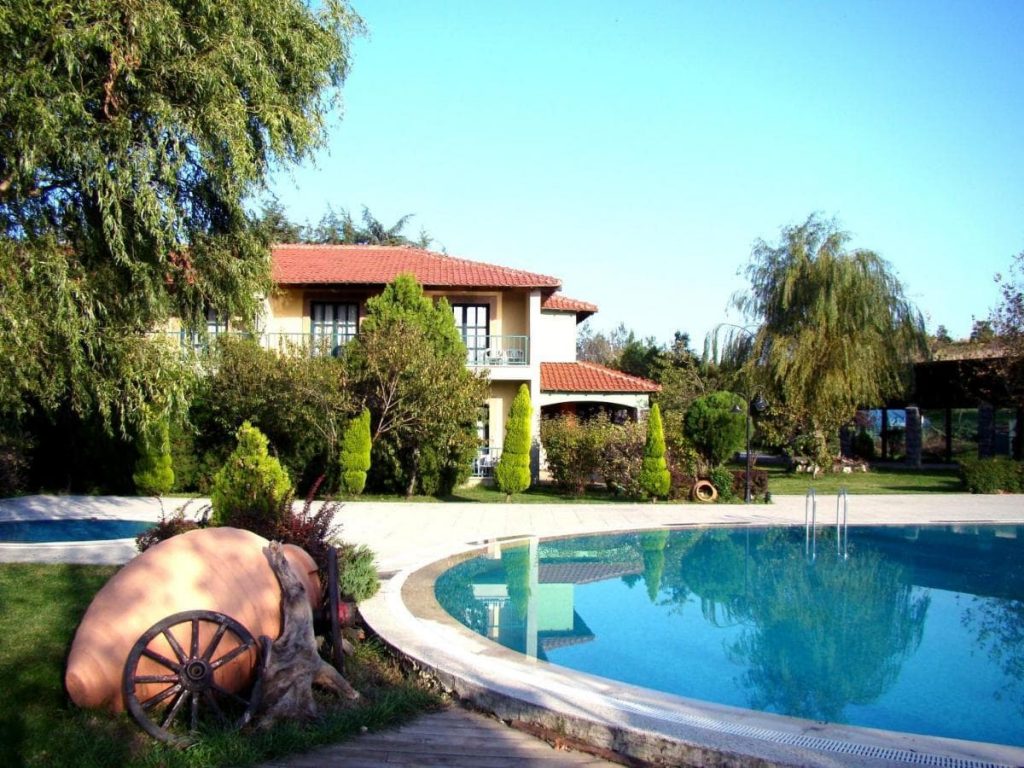 The Durusu Club Hotel may be the best compromise for those who want to spend a peaceful night in a quiet place before their flight. Moreover, it is only sixteen kilometers from the airport on the west side of the airport: to reach it, all you have to do is taking a taxi.
It is a wonderful establishment in a green setting. The view is incredible with large forests and the sea in the background. It is a delight for travelers who want peace and quiet after long hours of flying. In addition, the hotel has an outdoor swimming pool and a cocktail bar. Also, you will have access to a restaurant serving Turkish food and international dishes. The value for money (normally less than 50 euros) is excellent and the staff is very friendly.
Distance from Istanbul Airport (IST) : 16 km
Park Inn by Radisson Istanbul Airport Odayeri (4 stars)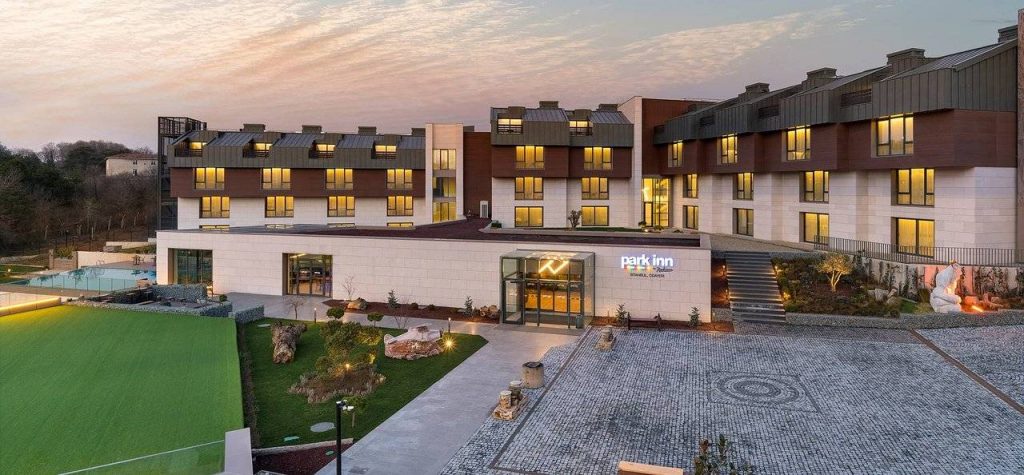 The Radisson Group's Park Inn brand hotels have a worldwide reputation for their good quality. This Park Inn hotel confirms that excellent reputation with its 4 stars. It is located only twelve kilometers away from Istanbul airport, which is about twenty minutes by taxi or shuttle (around 6 euros per person).
The hotel is modern and very well equipped. It has a gym, a swimming pool, a restaurant and a bar. And you will enjoy a nice and quiet natural space to relax. Rooms are spacious and air-conditioned. In addition, the balcony offers a view of the swimming pool and the beautiful gardens. Wi-Fi internet access and free parking are also provided. A room costs around 110 euros. This is a very solid option for business travellers.
Distance from Istanbul Airport (IST) : 16 km
Kule Hotel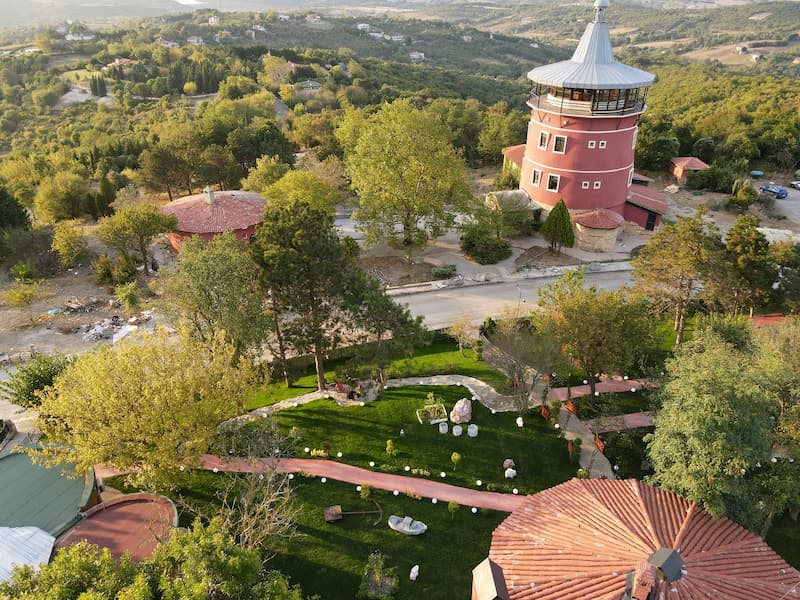 Near the Durusu Hotel Club in Odayeri, the new Kule Hotel is another interesting option for those who want a relaxing stay before taking their flight.
The hotel is very comfortable and quiet. The price is also really reasonable. You normally should pay around 50 euros for a night with a good breakfast included. Count around 7-10 euros for a taxi and you will arrive fresh at the airport without much hassle. It is outside the animation of the city but for those who want some fresh air and calm before a flight and without exploding the budget, it is probably one of the best hotels to stay.
Distance from Istanbul Airport (IST) : 16 km
Hidden Hills Hotel Istanbul Airport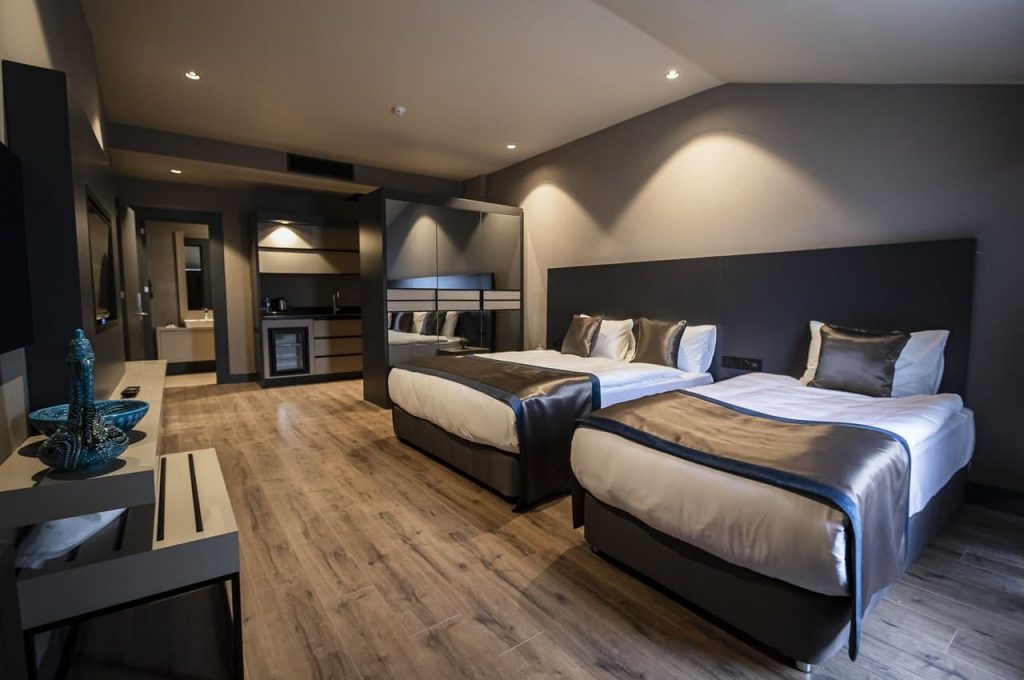 Previously named Menalo Suites Express, the Hidden Hills hotel is a nice budget hotel located at 16 km and around 15 minutes by taxi from the airport. There is also a shuttle service.
This hotel got a good reputation with travellers due to the good service and breakfast. The district is not particularly interesting to visit but the rooms are spacious and clean. It will totally do the job for a night if you want to be at a reasonable distance from the international airport on a budget.
Distance from Istanbul Airport (IST) : 16 km
Fly and Stay Hotel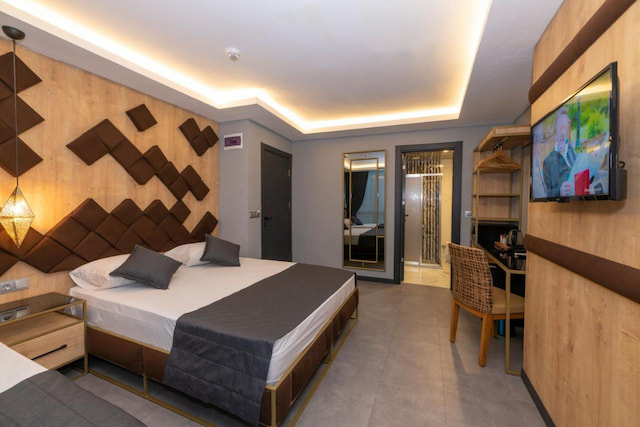 The Fly and Stay hotel is very good value for money.
Only 10 minutes taxi ride from the airport, this hotel is cheap (count around 30 euros for a night) and it provides a service above average. The rooms are new, quite spacious and clean. The people working there are very professional and the location will give you some peace in mind as you will escape any traffic jam when leaving the hotel before taking your flight.
An excellent option for people on a budget who want to stay close to the airport and spending a good night without hassle. The taxi should cost around 70 Turkish liras (TRY).
Distance from Istanbul Airport (IST) : 14 km
Melanj Airport Hotel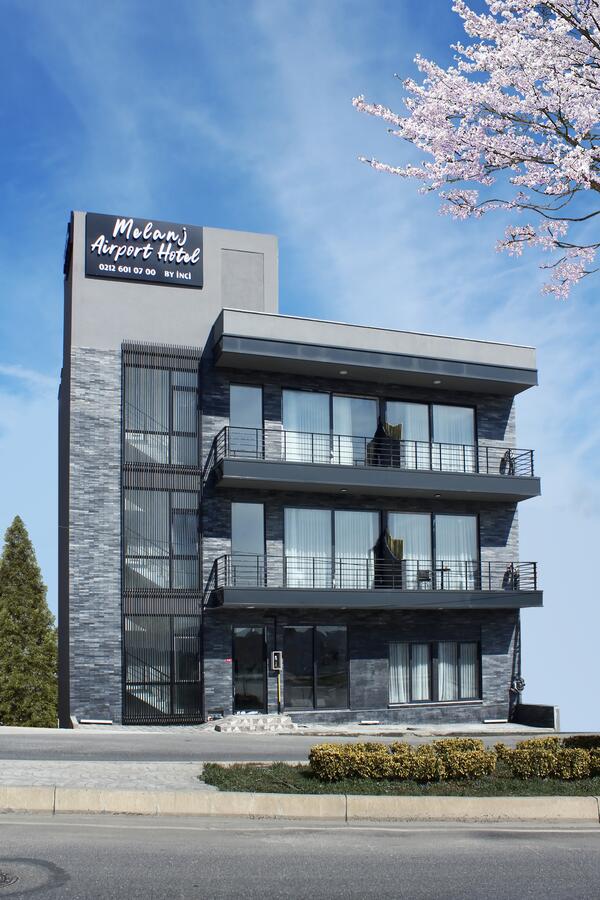 The new Melanj Airport Hotel is located near Istanbul international airport in Arnavutköy with a distance of about 14 km. A shuttle service towards the airport is available. The price is quite competitive with a range of 30-70 euros. The rooms are spacious and clean. This accomodation will provide the necessary comfort before taking a flight.
Distance from Istanbul Airport (IST) : 14 km
Skylon Airport Hotel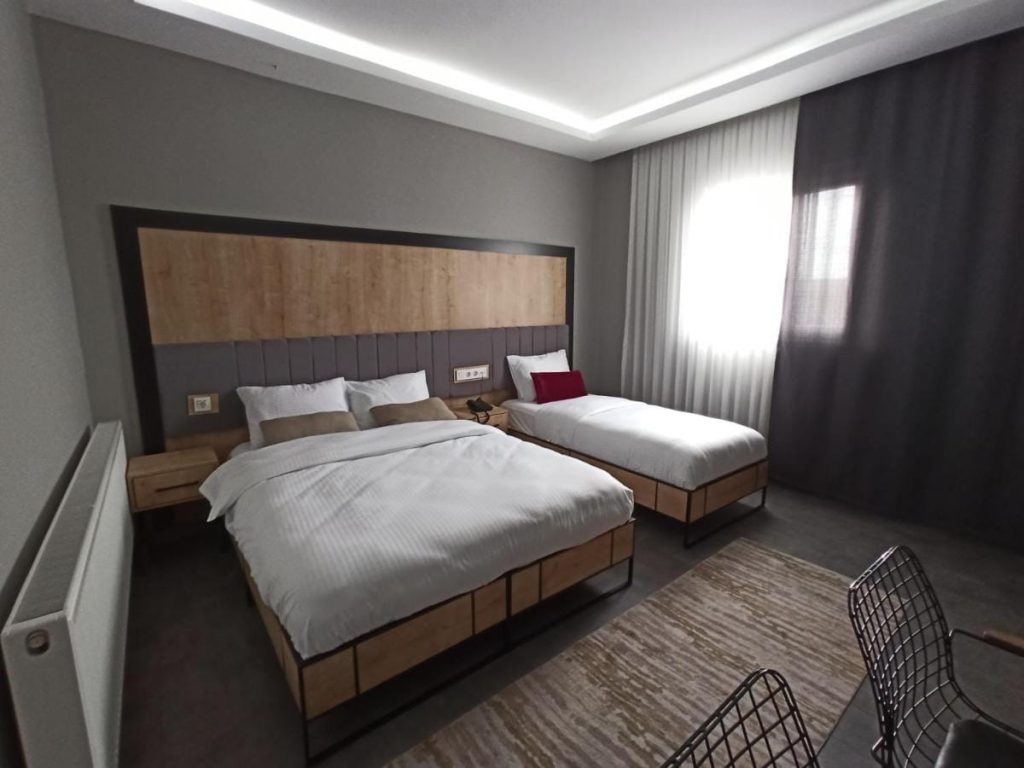 Anoher budget hotel in Arnavutköy. The quality of this hotel is pretty good for the price. It is an interesting option if you don't want to break the bank during the peak season (expecially during summer time). Nothing really special but the people working there are friendly and it definitely does the job for one night.
Distance from Istanbul Airport (IST) : 13 km
In which district to stay near International Istanbul Airport?
Istanbul International Airport (IST) is far from the city center. Public transport is still scarce and the metro is under construction.
A taxi ride to the center takes about 50 minutes. The bus line that makes the connection is slow, taking about 1 hour and 20 minutes to reach the center of Istanbul. So it is advisable to find some accommodation in a place close to the airport before taking your flight.
Please note that if you have a delayed flight and are traveling with Turkish Airlines, it is possible to ask the company for a free room in a Yotel cabin directly in the terminal.
Important Information
The new Istanbul Airport (IST) replaces Atatürk Airport (which doesn't work anymore) so you MUST avoid booking a hotel close to Atatürk Airport at all cost. The new airport aims to be the largest Eurasian air hub with more than ninety million passengers.
Odayeri
Odayeri is a small and peaceful village located twenty minutes by taxi from the airport. Natural parks and lakes surround the town. It is very well served, as it is located near the large ring road. Moreover, this small village of three hundred inhabitants is in full expansion since the construction of the new airport. In particular, Radisson and its Park Inn Hotel are helping to develop this small town. Indeed, projects for a school and a health center are under construction.
Arnavutköy
Arnavutköy is nicknamed "the village of the Albanians", it is a historical district of Istanbul. However, this non-tourist area does not offer museums or other activities. Nevertheless, the buildings have a European style, the city center is charming and is home to a small fishing village. Moreover, it is in the Durusu district that you will find the Durusu Club Hotel.
Hotel at Sabiha Gökçen Airport
There is another airport located in Istanbul but it is located at the opposite side of Istanbul International Airport (IST) in the Asian side of the city and it is called "Sabiha Gökçen (SAW)". This secondary airport is mainly used by lowcost companies such as Pegasus Airlines or for short flights inside the Turkish territory. Read carefully your flight ticket details in case you are not completely sure where your departure is. In case you are departing from Sabiha Gökçen airport and would like to sleep as close as possible to the airport the night before your flight, we strongly recommend you to book a hotel here.
Frequently Asked Questions
Is there a hotel inside the terminal?
Yes. The Yotel Istanbul Hotel Airside is located right inside the terminal after the security control. The Landside one is located near the airport entrance before the security control (you can't access this second option if you are not allowed to enter the Turkish territory during a transit).
How do you go to the city center?
The metro is still under construction. So you have to take the bus or the taxi to go to the center. There are 35 kilometers between the airport and the center.
Can you get outside the airport during a transit?
Yes you can. But you must have a valid visa depending on your nationality. European citizen are exempted from visa and can get easily stamped to leave the airport.
Is Istanbul airport open at night?
Istanbul airport is open at night. If your connection is short, you can take advantage of the "Nap Zones" to get a few hours sleep. The pods are comfortable and are located in the international terminal. However, if you want to get a good night's sleep, staying in a hotel is ideal. There are a few establishments in the airport and others right next door. Some like Yotel even offer rooms with an attractive rate for four hours.