If you're asking yourself why you should visit Istanbul or just can't decide what to do during a short trip in this city, we have some propositions for you. Some cities are famous for their amazing food, some for their historical buildings and some for their natural beauty, but Istanbul is a magnificient metropolis where you can find all of this. If you have limited time to visit this city, you may not know where to start. So we have compiled a list of the best things to do in Istanbul.
What are the must-have experiences in Istanbul?
It might take thousands of pages to list the best activites to do in Istanbul. To make things easier for first time visitors, we've made a short list of the top 15 activites to do in Istanbul. Let's start discovering Istanbul together with our almost perfect list!
15. Admire Istanbul Through Its Unique Rooftops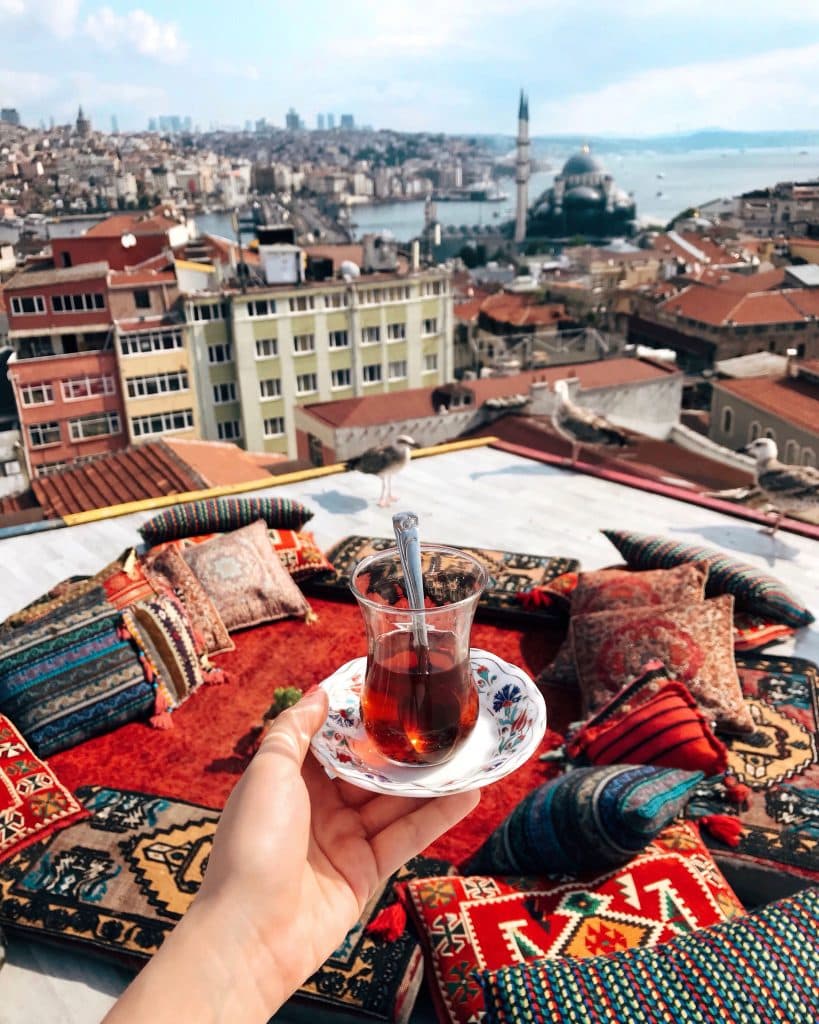 We start our list of the best things in Istanbul with a place that is probably not in your travel guide. Istanbul is already fascinating with your feet on the ground, but we strongly recommend you watch this city from the historical roofs! Many restaurants, cafes, bars and entertainment centers in the city are located on the rooftops that overlook the Bosphorus and the wonderful historical peninsula. Some rooftops can even be rented for photo shoots.
Our favorite one is Kubbe Istanbul. This panoramic place is located on the roof of Buyuk Valide Han which is an abandoned part of the Grand Bazaar. While Valide Han was a famous inn during the Ottoman Empire where ships lowered their cargo and accommodated foreign merchants, nowadays it has a deserted and unattractive appearance. However, once you go up the desolated stairs, the breathtaking view of the Golden Horn appears in all its glory.
If you decide to sit on this rooftop, you will be able to chat with hospitable owners while drinking tea, eatine some fruits, having a snack with your loved ones or making wonderful pictures for your Instagram. From there, you can also enjoy one of the most beautiful sunsets on Earth.
14. Eat a Kumpir in Ortaköy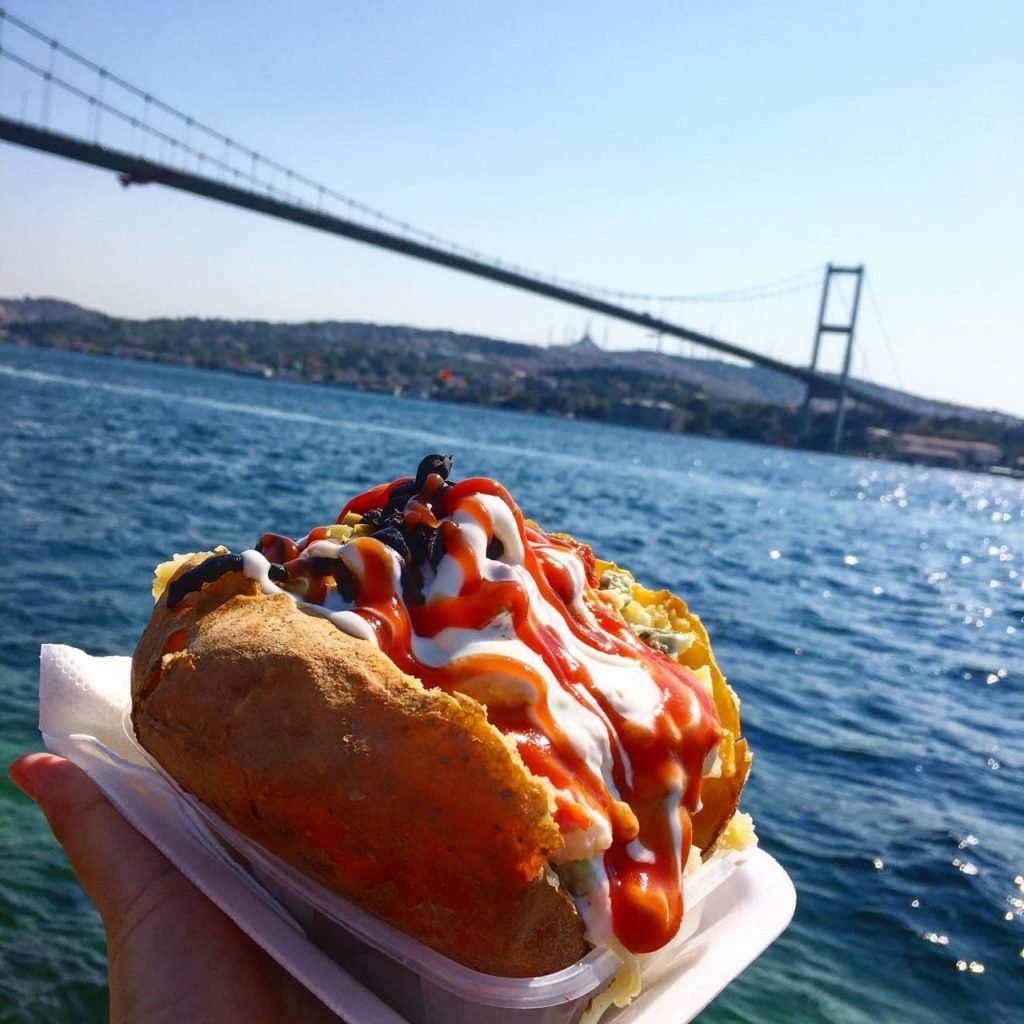 Kumpir is a Turkish dish made of mashed potatoes loaded with dreamy things. It is quite normal if you can't guess what is inside at first glance. But the taste of Kumpir will bliss you out and you'll be up in the clouds after the first bite. Sellers will mix potatoes with butter and cheese, then ask you which toppings you want to add inside it. You can choose any of the stuffing you desire like pickles, olives, sausages, salad, ketchup, mayonnaise, sweetcorn, etc.
The best area to eat Kumpir in Istanbul is Ortaköy, where you will find a large selection of good buffet restaurants. The competition, which has been going on for years, has made Ortaköy bakers the best baked potato and waffle makers in Istanbul. For this reason, you should visit Ortaköy if you want to try the taste of the real Kumpir and a different waffle with different ingredients than the classic Belgian waffles. But mind the persistent sellers. While walking on the road, you can hear calls from each stall inviting you to eat Kumpir, and you may be caught by a seller and dragged into the shop.
Nevertheless, it is worth to experience the magnificent view and lively touristic ambiance just below the Bosphorus Bridge of Ortakoy. Don't forget to visit Ortaköy Mosque, which is one of the symbols of the Bosphorus while you are there.
13. Feed Seagulls with Turkish Bagel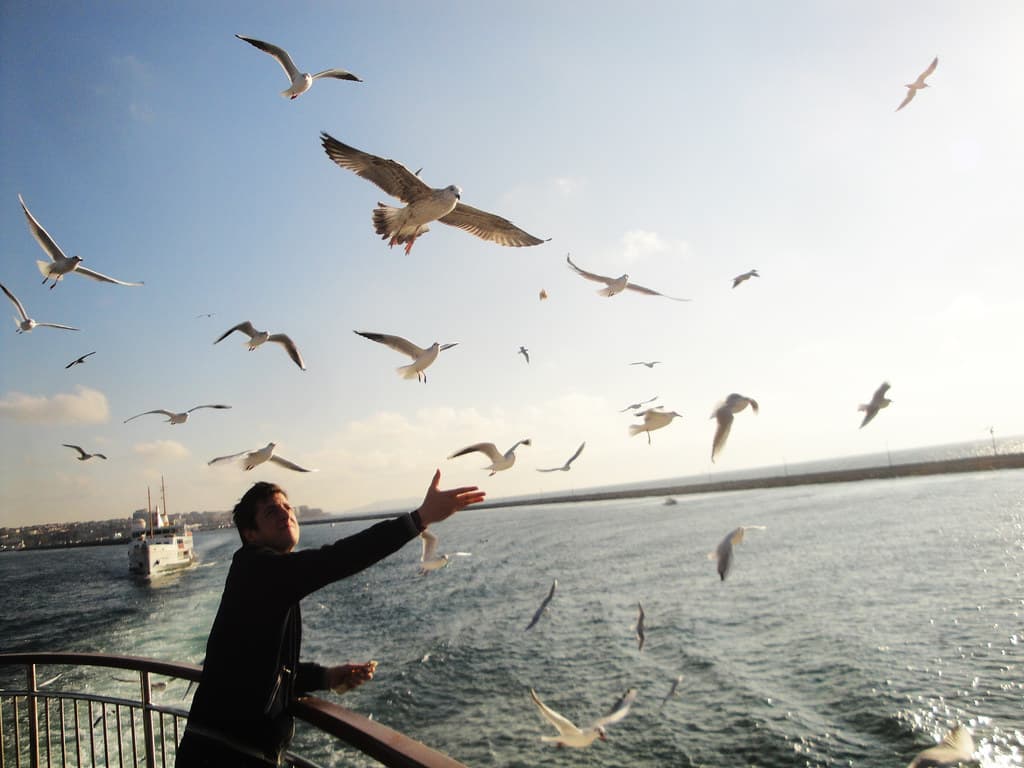 To carry out this item on our list of best things to do in Istanbul, you should be in a moving ferry. It is a Turkish thing feeding seagulls with bagel from a ferry while moving. You pluck a small piece of bagel, make sure that a seagull sees you and throw it towards the sea. Then the seagull and its friends will start following the ferry and try to catch the pieces in the air. This may sound funny, but the atmosphere of the sea and voices of seagulls are so relaxing and it's like a therapy.
Not only seagulls but also other animals are very important for Turkish people. Especially cats have great importance and are like the anonymous owners of the city. You can meet them at almost any corner for instance in the districts of Uskudar, Sultanahmet, Fener Balat etc.
Locals take care them well by leaving food and water outside the shops and sometimes pillows and old clothes for them to sleep on. So if you are an animal lover, feeding stray cats is also counts as one of the best things to do when you come to Istanbul.
12. Cross the Galata Bridge on Foot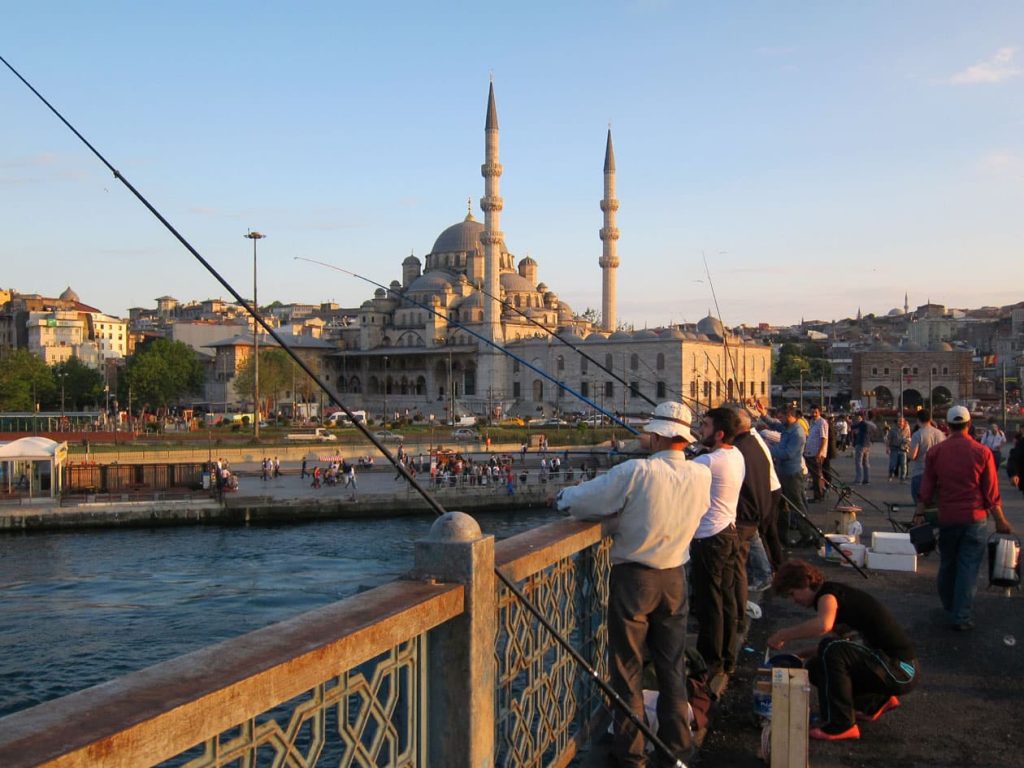 Walking across Galata is like one of the best things to do in Istanbul. Of course there are some other ways to cross the bridge, like the light rail but this is the best way to do it. While walking on the bridge you can have a chance to see fishermen and fishes fluttering in their bucket, Istanbul's natural and historical beauties on the both sides of the Bosphorus, watch ships going under the bridge and inviting fish restaurants.
There is also a restaurant and a photo corner on the top of the tower. After climbing the stairs, you can have a rest at the restaurant and make a photoshoot with some Ottoman dynasty clothes on. In addition, after your tour in the tower, you can join to the virtual tour on the second floor where you can travel over Istanbul in VR. This is a unique experience if you don't have much time to visit every historical place in the city. However, if you plan to join VR, don't forget to buy tickets at the entrance and use the stairs, not the elevator at the exit.
11. Eat Chicken Breast Pudding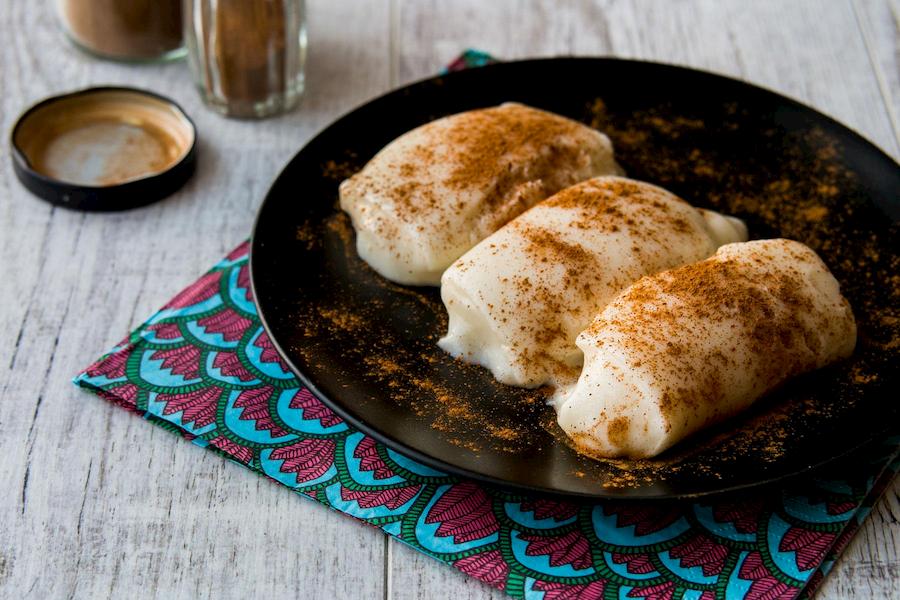 Chicken might be the weirdest thing to put in a dessert, but Chicken Breast Pudding is quite delicious in a strange way. However, you don't actually taste chicken. Chicken breast is shred into very small pieces after boiled and then boiled again with corn starch, vanilla, milk and sugar this time. At the end of the cooking processes, it becomes a delicious sweet pudding which is mostly served with cinnamon on it.
After you taste the Chicken Breast Pudding, we're sure about that you will always look forward to visiting Istanbul once again just for eating this delicious dessert. This magnificent dessert, which is named in Turkish "Tavuk Göğsü", had become a part of Turkish cuisine after it was first served to the Ottoman sultans in Topkapı Palace. So, it has a long historical journey with its unchanging taste. This is in our best things to do in Istanbul list because we claim that it isn't so common to find meat in desserts as an ingredient, but Chicken Breast Pudding is one of them.
10. Take a Bath in a Turkish Hammam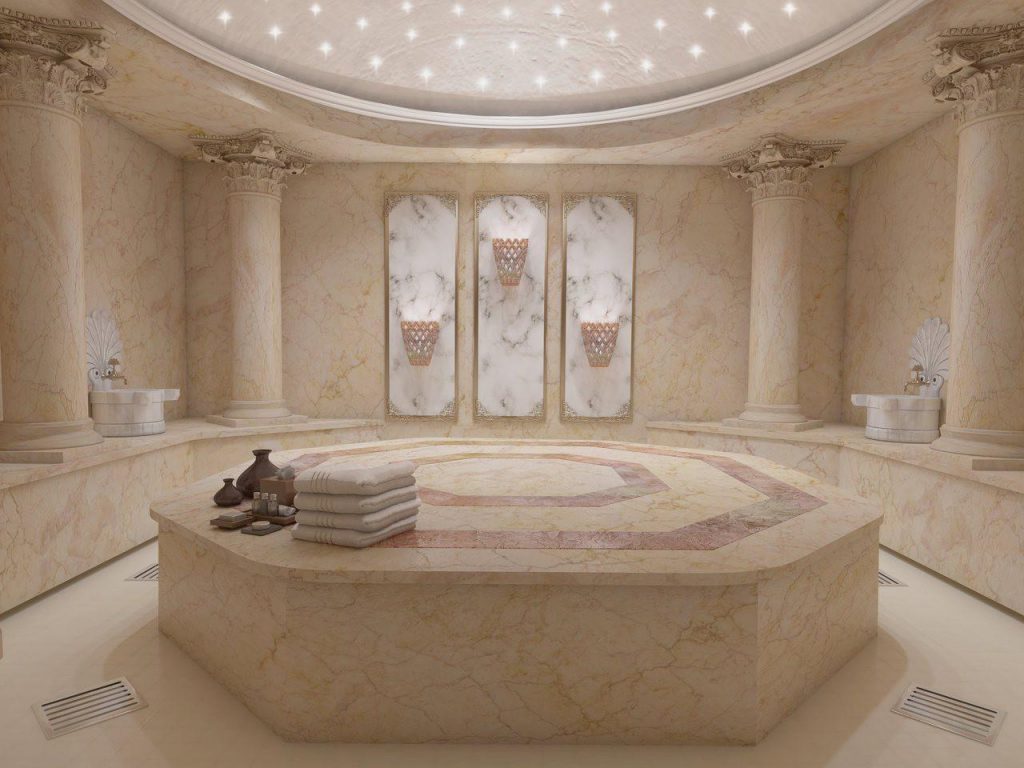 The hammam is a traditional Turkish Bath which has been used since Ottoman Empire. If you are ready to experience relaxing bath in a hammam, first you need to have shower (or a bath attendant can wash you) with healing water. Then for a full experience you need to get rubbed with a coarse bath glove and have a massage.
When we look at the history of hammams, their origins are found in the Romans & Byzantines time. It wasn't an original tradition for Ottomans, but it was later transformed into the traditional Turkish bath by the contribution of Turkish culture like being washed by bath attendant or get rubbed with a coarse bath glove by these attendants. If you'd like to relax in a Turkish bath we definitely suggest you to visit Ayasofya Hürrem Sultan Hammam, Çemberlitaş Hammam and Kılıç Ali Paşa Hammam.
9. Test Your Haggling Skills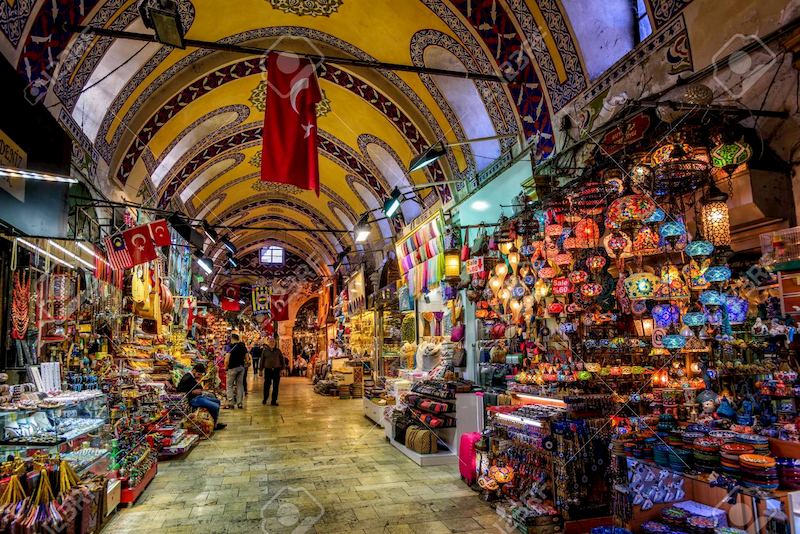 Grand Bazaar is a place where you can see colorful spices, magical light lamps, jewels, Turkish delights and lots of sparkling things to catch your eye. It is also a place where you can test your haggling skills and have conversation with local sellers in a fun way.
8. Enjoy the Bosphorus View from the Top of Galata Tower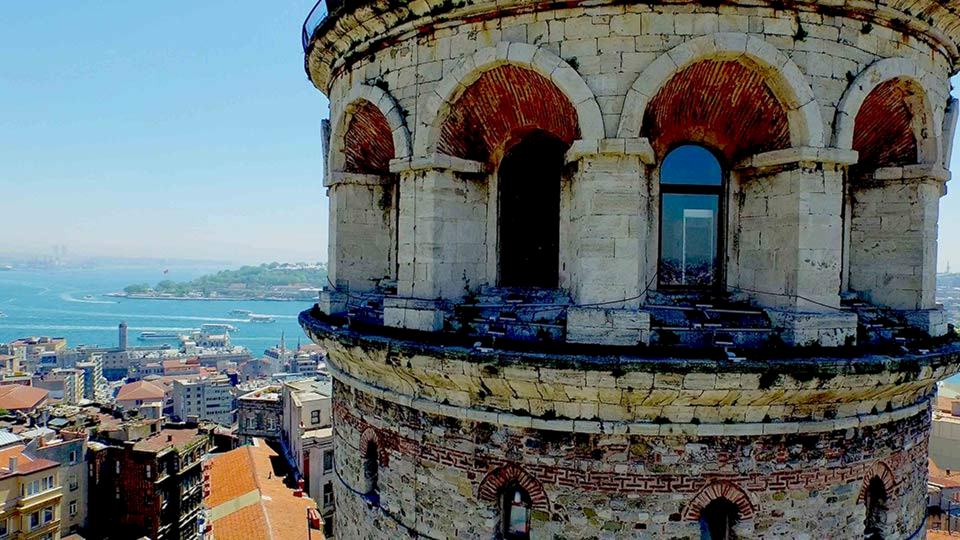 According to legend, you will marry the person with whom you get to the top of Galata Tower. Therefore every day, a huge crowd of couples tries to reach the top of the tower. Thus, a queue extending to Galata streets is formed. But don't let this quick ending queue scares you, once you reach the top taking photos and enjoying the view alone or together with your loved ones, we ensure that it is going to charm you.
7. Visit Art Galleries and Museums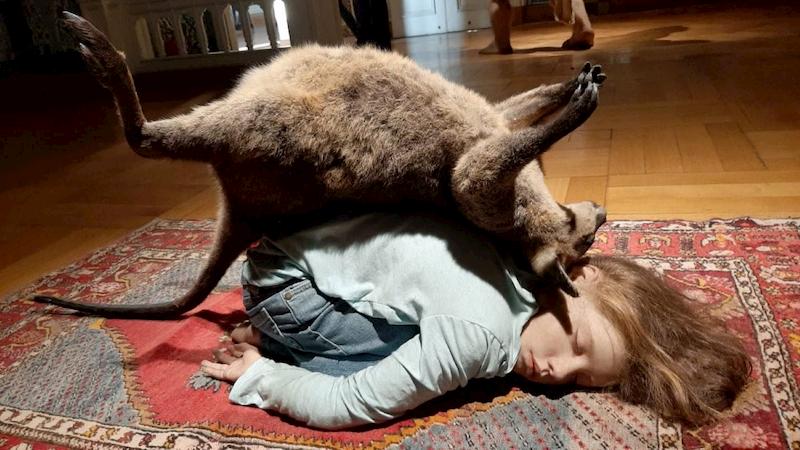 Istanbul has hosted many local and foreign artists throughout history and is a culturally rich city. Therefore, it is quite rich of art galleries and museums. The museums of Istanbul, who embraces every artist who has landed on their city and support the creation of art even during the war, are not just full of amazing Turkish history but modern and renown national and international artists' art.
Thus, the museums, which have a rich and mixed structure, are the focus of attention by local and foreign tourists. Especially growing with the support of the state and the country's important foundations and individuals, Pera Museum, Sakıp Sabancı Museum and Istanbul Modern Museum are worth to see. These highly active museums await visitors with weekly and monthly exhibitions.
Apart from all these, there are also many historical buildings that were later converted into museums in Istanbul. For example, the pavilion of the Ottoman dynasty member Abdulmecid Efendi, who is also a painter, is one of the popular museums nowadays. In addition, you can come across the house of world-famous singer Barış Manço in Kadıköy and the places where many writers and poets live while walking in Istanbul streets.
6. Go to Maiden's Tower with a Small Boat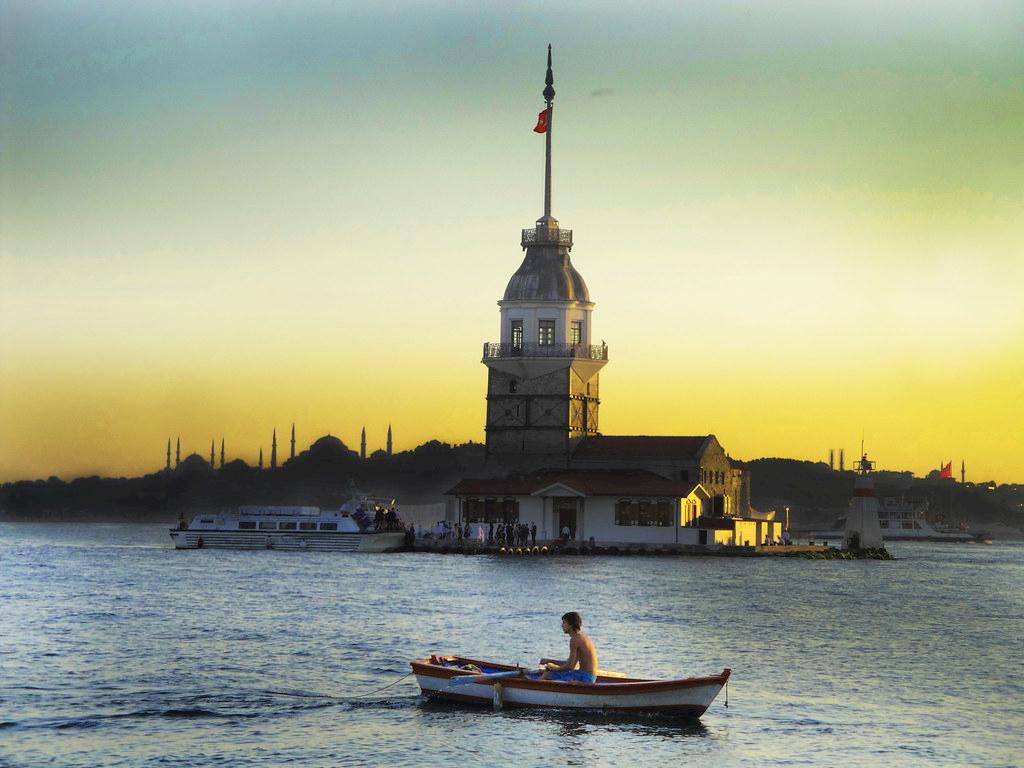 Maiden's Tower sits on an islet in the middle of the sea. It is known as being the place where a Sultan kept his daughter to protect her from a witch. According to debated story, the witch somehow sent a basket of fruits to the tower and while Sultan's daughter (who likes fruit much) eating the grapes a snake showed up and killed the beautiful princess. When visiting Maiden's Tower you may feel like a kept princess and feel sad again for her. Of course, there is now a restaurant instead a young girl's room.
5. Take a Daytrip to Heybeliada and Bozcaada Island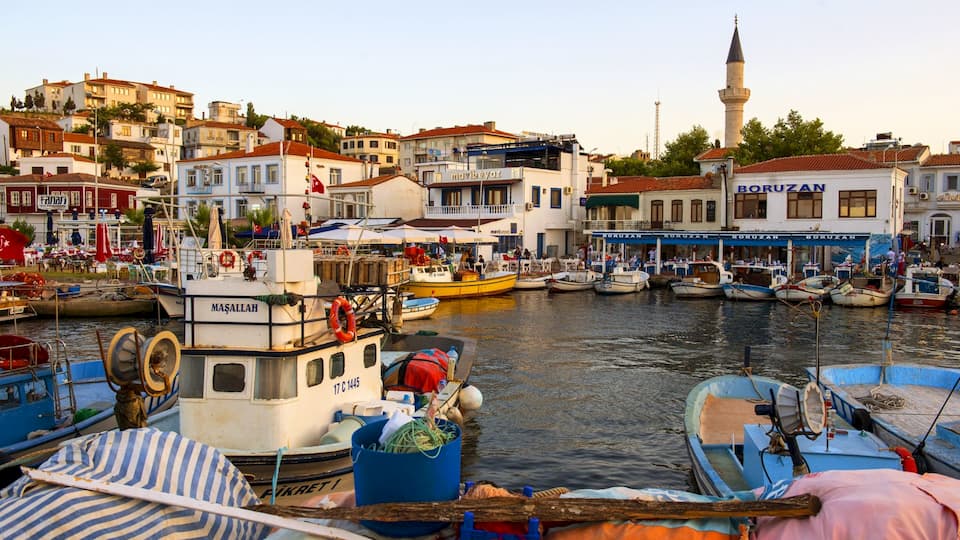 You can get on a phaeton or cycle around the islands, eat Turkish ice cream and have fun at clubs. If you want to spend the night at Heybeliada you can choose Karamanyan Apartments run by an English couple. They offer an authentic and stylish island retreat which is perfect for any traveler. But keep in mind that if you're a phaeton lover, there are current political attempts on banning them. So, in the near future, it won't be possible to take a tour of the island with a phaeton. However, you can always rent a bicycle there with reasonable prices and see all beauties, important places of the island with your friends.
4. Take a Bosphorus Cruise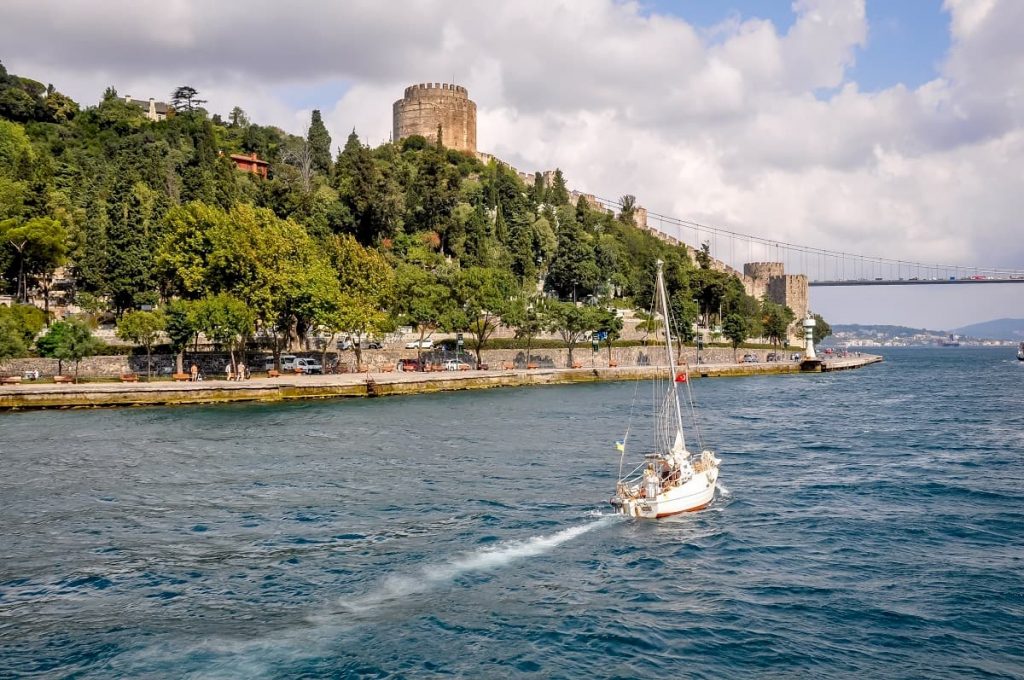 Take a chance to see Istanbul from the Bosphorus and have a fast-historical tour at the same time. Be careful with the ticket sellers on Eminönü or Üsküdar waterfront and choose Full Bosphorus Cruises operated by Cityline (You can check the time tables and locations on this website). Taking the Bosphorus tour is both enjoyable and interesting because while you will be enjoying the fresh sea air with a fascinating view, it will also be a perfect opportunity to see the most important places, the signatures and symbols of Istanbul like Maiden Tower, Galata Tower, Topkapı Palace, Beylerbeyi Palace and most of the historical buildings.
3. Live the Mysticism of the Basilica Cistern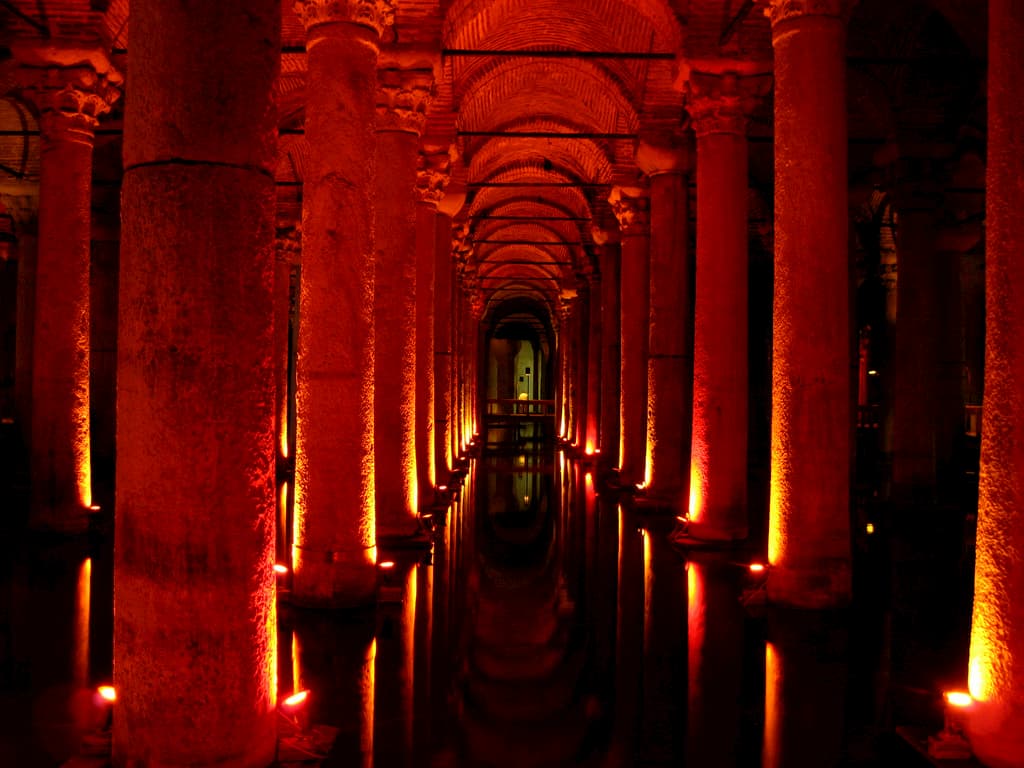 The Basilica Cistern is a very magical underground cistern. Basilica, one of the magnificent historical buildings of Istanbul, is located in the southwest of Hagia Sophia. The construction of Basilica is based on Constantinople, before Istanbul. The cistern was built by the Byzantine Emperor Justinian I. and have been maintaining its uniqueness since then. Rising in the cistern, which has a water storage capacity of about 100,000 tons, there are reliefs of some iconic historical figures such as Medusa on columns.
With its dimmed light, sound of dripping water and a little classical music, Basilica is a very romantic place. Being there is just like living a fairy tale. It was built by Emperor Justinian in 532 to store water and use it in various fields. Normally, all museums and historical places in Istanbul can be entered and visited by Museum Pass İstanbul but for the Basilica Cistern, it's not valid to enter there with Museum Pass. So, you need to be prepared for this by bringing some cash with you in your Basilica Cistern visit.
2. Witness History with Hagia Sophia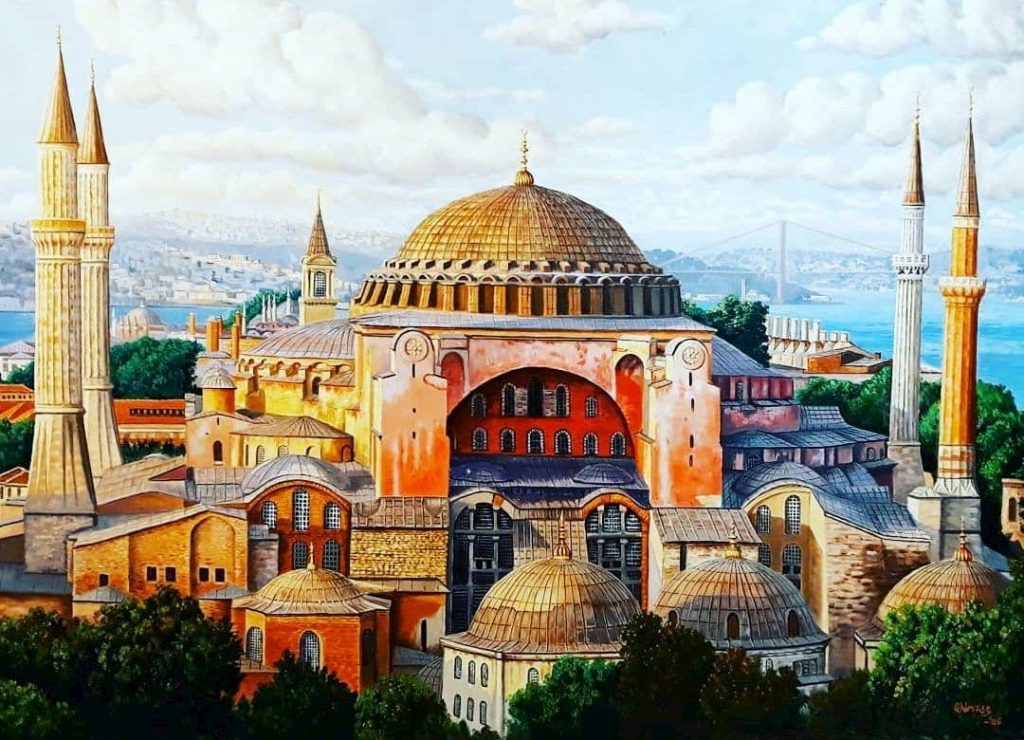 If you're in Istanbul, it's a must for you as a tourist to visit and discover Hagia Sophia which survived hundreds of years with its impeccable looking and great history. It was first built as a cathedral and used for this holy purpose as Byzantine Christian, Greek Orthodox & Roman Catholic Cathedral until 1453.
After 1453, it was converted into a mosque by Ottoman Empire. Nowadays, it's a museum carrying all motives both Christianity and Islam by reflecting the cultures, beliefs and lifestyles of various empires. You may not find the exterior so impressive but once you are inside, it's is inevitable to be amazed with this architectural treasure's artistic dome and all motives, colors and structure.
1. Order Turkish Baklava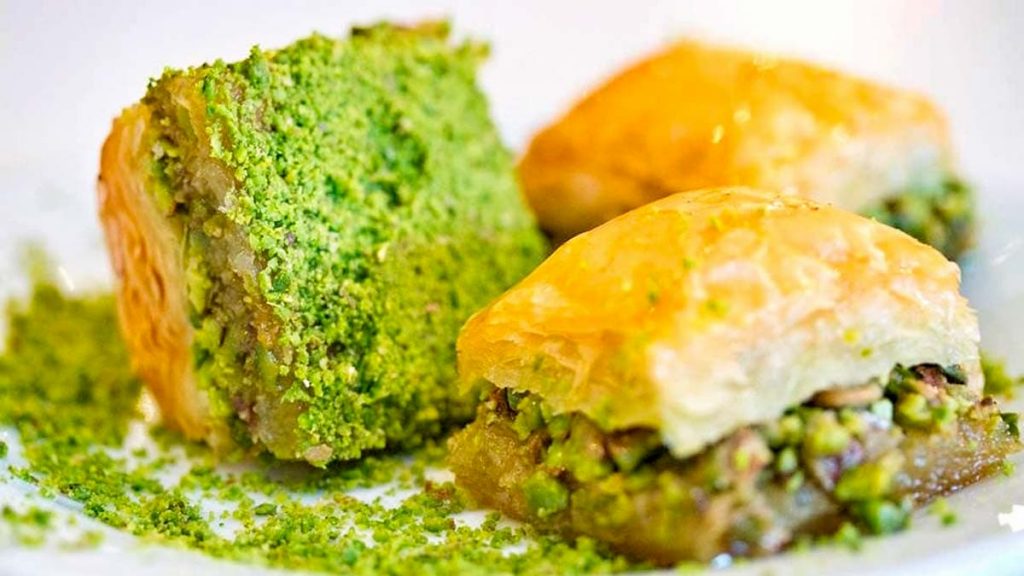 The baklava is a dessert comes down from heaven and we can't even find another adjective to describe it. However, we can talk a little bit about its content. Baklava is an Ottoman dessert originally peculiar to the city of Gaziantep. However, you can find many baklava shops all over the country, especially in Istanbul.
Baklava, which is usually made with sherbet, phyllo dough and pistachio, is also made with cream, walnuts, milk and hazelnuts. Although there are chefs who make delicious baklavas in Istanbul, if you come across a bad place, don't lose hope until you find a good one. The real baklava may make you want to return by taking the first plane the day after eating.
The list ends here there are definitly so many more things to do in Istanbul. The best way to experience this fascinating city is to travel around with a local. However if you don't know anyone, there are students who want to improve their language. We also suggest taking professional services like a tour guide service.
We hope you will have an amazing experience in Istanbul.
A few extra links :